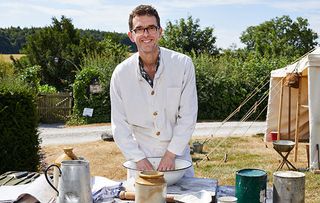 Stars of Emmerdale celebrate the lives of Yorkshire men and women who drove the war effort, beginning with Mark Charnock playing tribute to an army chef
The cast of Emmerdale, including Charlotte Bellamy and Natalie J Robb, step back 100 years to celebrate the lives of unsung World War One heroes in this Who Do You Think You Are?-style series.
Emmerdale is based on the real-life village of Esholt. Mark Charnock (AKA Marlon Dingle) sets off on the trail of Esholt lad Frederick Brocklehurst, a battalion cook.
TV Times caught up with Mark Charnock to hear more about the series. Here's an excerpt from the feature in this week's magazine:
What did you learn about the conditions Fred Brocklehurst had to cook in on the front line? 'The conditions were monstrous. There would have been dead bodies and explosions everywhere, gunfire, horribly injured men being carried past, rats and rain – and in the middle of it he was trying to cook for loads of men. He was cooking them stuff that would hopefully give them that little taste of home at the end of another horrifying day.'
You say that Fred had a Dingle-ness about him. Why was that? 'Not in a dodgy way, he just didn't naturally bow to authority! For instance, he smuggled a camera behind the lines and soldiers weren't meant to do that. There are pictures of him posing while he's shaving! So there was a cheekiness about him, which I really liked. Also, the cook he replaced had been killed so he was thrust into this job, he wasn't trained to be a chef so he had to improvise, which is exactly what Marlon had to do 20-odd years ago when he was washing salad in Pollard's wine bar – he had to make it up as he went along!'
You got to try your hand at World War One trench cooking. What did you think of the food? 'Basically, it wasn't very good. They had a tendency to put brown sauce in everything simply to give it flavour. Then there was the corned beef… when I was at school I remember making a corned beef hash and not even the dog would eat it! In the final episode, we had an Armistice Day party on the Emmerdale set and I served my World War One spotted dick to everyone, which I'll be honest, had a mixed response!'
TV Times rating: ****
Get the latest updates, reviews and unmissable series to watch and more!
Thank you for signing up to Whattowatch. You will receive a verification email shortly.
There was a problem. Please refresh the page and try again.