Emmerdale spoilers! Chas Dingle gives birth to baby Grace who then dies in her arms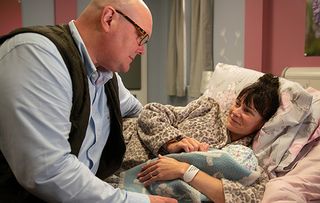 Chas Dingle gives birth to her terminally-ill daughter baby Grace who then dies in her arms as she and Paddy say goodbye to their girl
Chas Dingle is in labour and it is a bittersweet moment.
She and Paddy have longed to meet their baby daughter and are excited to clap eyes on her. But Grace's birth can only mean one thing - her death. The poor mite hasn't developed kidneys, which means she can't and won't survive outside of Chas' womb.
The couple has talked and talked about this moment, and now it's upon them…
"Chas and Paddy have decided to hit it in a positive manner," said Dominic Brunt, who plays vet Paddy, of the storyline. "Even if their child is alive for 30 seconds or 30 minutes they want to make it so she's surrounded by love. But when labour starts, it's all very real and no longer hypothetical, and it frightens them."
As Grace arrives into the world, they're agog. Paddy and Chas (Lucy Pargeter) marvel at her and lovingly cradle their perfect girl.
"They both look at her and she's a beautiful, serene baby. They immediately fall in love with her. Paddy is reticent to hold her because he's a big lumpy clumpy thing and he doesn't want to hurt her, but he does hold Grace," revealed Dominic.
Doting on every precious second, Paddy starts imagining them all going on a trip as a family, had things been different.
"It was impossible to read the dialogue without bursting into tears so I kept having to read it in private. The cameramen were crying because of what was being said and filmed. It's the most effecting and engaging thing I've done since I've been in Emmerdale," said the actor.
Soon, Grace dies in her mummy's arms, leaving Chas and Paddy distraught.
"But there's a positive twist to the story," added Dominic. "Chas and Paddy give her the best life Grace could have. It will be sad but no one will regret watching it because it's hopeful and, strangely, upbeat."
Emmerdale continues tomorrow on ITV.
Get the latest updates, reviews and unmissable series to watch and more!
Thank you for signing up to Whattowatch. You will receive a verification email shortly.
There was a problem. Please refresh the page and try again.