Emmerdale SPOILERS: Christening NIGHTMARE for Tracy Metcalfe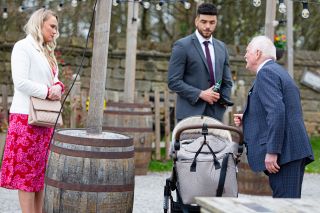 Tracy Metcalfe finds her daughter's christening in chaos...
Tracy Metcalfe is feeling stressed in the first Thursday episode of Emmerdale on ITV from 7pm (see our TV Guide for full listings).
It is the day of Frankie's christening, but instead of feeling like the proud mum that she is, Tracy can only feel her stress levels going up.
The run up to the special day hasn't been plain sailing, first with boyfriend Nate breaking his foot, and then him leaving the village to stay with his mum.
And things aren't any better on the day of the christening because Eric Pollard's argument with the Dingle family is getting out of hand.
Eric is in the Dingles' bad books for attacking Aaron while he was trying to secretly return Brenda's brooch.
Brenda had accused Pollard's ex, Faith, of stealing the precious jewellery, but it was actually Mack who had taken the brooch.
However, Aaron found himself rushed to hospital after being attacked while trying to help, and now Pollard's in big trouble.
As the tension mounts between Pollard and the Dingles, the christening becomes more about their war than the gorgeous little Frankie.
In the end Tracy gets fed up with the drama and asks Pollard to take her home.
But is this the end of the argument between him and the Dingle clan?
Elsewhere, Liv is feeling guilty about Paul's death and has started to drink to numb the pain.
However, when Vinny opens up about his counselling sessions and tells her that talking to someone else has made him question his past, Liv starts to panic.
Vinny can see that what he said has hit a nerve with Liv and starts to wonder what is going on with her.
At the christening Liv secretly swigs vodka to hide her guilt, but soon Vinny is shocked to find her covertly drinking and realises she is at breaking point.
Will he be able to help his girlfriend? Or will Liv finally confess what really happened in the barn the day that Paul died?
Emmerdale airs weeknights at 7pm on ITV, with an extra episode at 8pm on Thursdays - see our TV Guide for full listings.
Get the latest updates, reviews and unmissable series to watch and more!
Thank you for signing up to Whattowatch. You will receive a verification email shortly.
There was a problem. Please refresh the page and try again.