Emmerdale spoilers: Is time running out for Cain Dingle?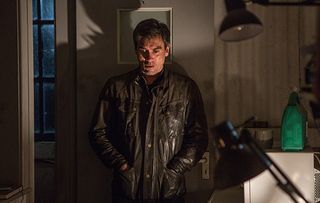 After discovering his daughter Debbie has reported Joe as a missing person to the police, Cain fears he'll soon be caught for his crime...
After Debbie Dingle's visit to the police station, her dad Cain is alarmed to discover she has reported her former fiance Joe Tate as a missing person.
Of course, Debbie remains unaware Cain was involved in Joe's disappearance after he got into a fight with him on the day of Debbie and Joe's wedding, causing Joe to fall and hit his head.
While it was Joe's trusted associate Graham Foster who drove off with Joe's body in the boot of his car, Cain has been left with the terrible guilt he killed his own daughter's fella!
Cain confides in wife Moira, who is the only other person who knows what happened that fateful day. And although Moira is doing her best to support her husband through this terrible time, Cain fears it is only a matter of time before the police join the dots and connect him to Joe's fate...
Meanwhile, Belle Dingle is more certain than ever her killer ex-boyfriend Lachlan White is somehow menacing her from behind bars.
After receiving a bunch of dead flowers and discovering the beloved family pig Gloria has been brutally slain, Belle decides it's time to confront Lachlan in prison for the first time since she discovered the shock truth about his killing spree and he forced her to flee the village with him.
Accompanied by her older brother Sam, Belle visits Lachlan and the pair are surprised to find the lad seemingly sorry for his killer crimes, which included causing the deaths of his mum Chrissie and grandad Lawrence in a car crash.
But while Sam believes Lachlan has genuinely changed, Belle isn't buying Lachlan's act and remains convinced he is somehow targetting Belle and her family. Is she right?
Emmerdale continues weekdays at 7:00pm on ITV
Get the latest updates, reviews and unmissable series to watch and more!
Thank you for signing up to Whattowatch. You will receive a verification email shortly.
There was a problem. Please refresh the page and try again.