Farewell Hanssen! Will the CEO ever return in Holby City?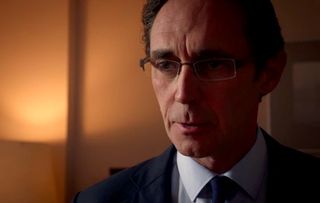 (Image credit: BBC)
The CEO leaves Holby – but will he be back?
Although several weeks have passed, everyone at Holby is still struggling in the aftermath of the shooting. But none more so than hospital CEO Henrik Hanssen, still haunted by memories of that fateful day, when his son, Fredrik Johanssen, went on a gun-wielding rampage, killing medic Raf di Lucca and wounding several others.
Already battling with his emotions, Hanssen gets a shock when Fredrik's wife Sarah arrives to attend a memorial service being held for Raf at his widow Essie's invitation.
Meanwhile, neurosurgeon Roxanna MacMillan is monitoring the progress of medic Oliver Valentine, left brain-damaged after being shot in the head by Fredrik. Roxanna reckons Ollie could regain some memory by seeing familiar faces, so Hanssen plucks up the courage to see Ollie for the first time since he was hurt. Will Ollie remember him?
At Raf's memorial, Hanssen tries to give a speech but he's overcome with emotion and feelings of guilt and Professor Gaskell has to take over. Later that night, believing everyone at the hospital is better off without him, Hanssen leaves without telling anyone. But is he gone for good?
Meanwhile, dead set on moving on from the shooting and maintaining her status as Holby's super surgeon, Jac wants to fast track her recovery. But with reminders of the memorial all around, does she need more time to heal?
Also, Lofty's thrown when an unexpected patient turns up on Keller… his nan! Later, Lofty wonders whether his future with Dominic may be looking up.
Get the latest updates, reviews and unmissable series to watch and more!
Thank you for signing up to Whattowatch. You will receive a verification email shortly.
There was a problem. Please refresh the page and try again.