It's Gary and Terese's wedding!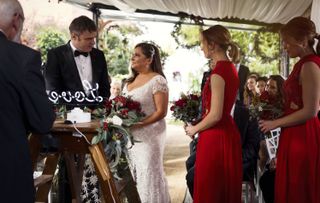 Will it be happy ever after for Gary and Terese?
It's the big day for Terese and Gary. However, wedding nerves get the better of Terese and she begins to dream about Paul. She envisions that Paul has returned to Ramsay Street and is determined to put a stop to the wedding. Paige begins to sense Terese's strange mood and decides to pay Paul a visit at his penthouse to ensure that he has no intention of ruining Terese and Gary's big day. Will Paige be able to speak with Paul? And, if so, will he listen to what she has to say?
Piper and Tyler are setting up the wedding venue and it brings up a discussion about their own wedding. Does the young couple want the same thing? Luckily, Xanthe, who is keen to perfect every detail for her dad's big day, interrupts Piper and Tyler's discussion.
The wedding begins to take place and things go according to plan, until Terese decides to come clean and tell Gary about her one-night stand with Paul. Terese's admission produces fireworks, as Xanthe slaps her, Sheila vows revenge and Gary disappears…
Finally, Terese heads to Paul's penthouse but has nasty surprise when she arrives…
Get the latest updates, reviews and unmissable series to watch and more!
Thank you for signing up to Whattowatch. You will receive a verification email shortly.
There was a problem. Please refresh the page and try again.