Harry's in Tony's bad books...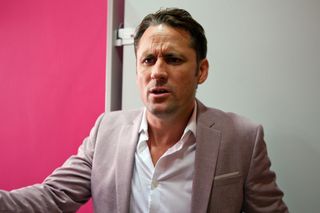 When Harry lies to his dad that he was taking drugs and Ste stopped him, Tony drags his son out of the club and straight to the hospital for an 'Addict Support UK' meeting. When Tony announces he's going to send Harry back to boarding school, Ste tells Harry that maybe it's better if they have some distance between them.
Meanwhile, Robbie finds a fearful Holly stood by Trevor's smashed-up car and drags her away. Jason arrives at the garage where Robbie and Holly are hiding. Elsewhere, Trevor thinks Leela's to blame for his smashed-up car and marches her out of the pub. Ziggy tells Trevor he'll fix the windscreen for free. Trevor drives his car into the garage and is met by a terrified Holly with Jason and Robbie. When they realise Trevor thinks Leela's responsible for the vandalism, Robbie offers to repair the damage.
Also, Scott takes Rose to see Tegan, who's heartbroken when Rose doesn't recognise her as her mum. Elsewhere, Ziggy's thrown to hear Tegan gave Leela the fake scan photo and wants to give his marriage another go. As Ziggy and Leela decide to go on a make or break holiday, Ziggy and Tegan come face to face. Tegan realises she's lost everything!
Get the latest updates, reviews and unmissable series to watch and more!
Thank you for signing up to Whattowatch. You will receive a verification email shortly.
There was a problem. Please refresh the page and try again.