Heston dresses up as Churchill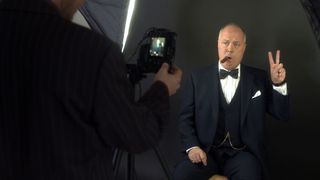 (Image credit: BBC)
Mrs Tembe suggests Heston should dress up in something in keeping with his creative side. This spurs Ruhma into action and she returns with a hired costume. Heston looks at her aghast – she wants him to dress up as a mummy? Heston finally agrees and, as they relax at home, Heston puts his foot in it by saying something negative about her kids. Things turn sour but, when Heston admits he was nearly a dad himself once, Ruhma softens.
Ayesha is determined to make a good impression on her blind date but, when Sid loses his voice completely, she has to speak for both of them. At the end of the night, Ayesha is mortified when Tom lets her down gently – it seems to him there's something going on between her and Sid. And Sid doesn't help when he shows her a phone number scribbled on his hand – Brittany wants to see him again!
Also, Sid sees two patients who are trying to find the right voice to tackle their personal problems.
Get the latest updates, reviews and unmissable series to watch and more!
Thank you for signing up to Whattowatch. You will receive a verification email shortly.
There was a problem. Please refresh the page and try again.