Holly and Jai are so happy together. But for how long?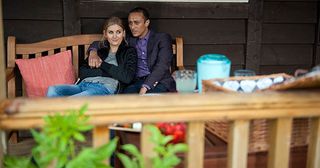 (Image credit: Andrew Boyce)
Jai and Holly make some plans, so does Cain after he confronts Moira in the village. But Nicola and Jimmy are still in a muddle
Holly's all loved up with Jai. They're sharing a picnic and talking about how Holly can keep Moira from selling up and how Jai will tag along to Holly's next gig as a wedding photographer, playing her assistant just so they can spend time together. They've also made plans to go away the following week and Jai tells Holly to bring her passport for a surprise. They're getting serious and Jai said they need to go public.
Cain doesn't like what he sees when he gets back: letters from Moira's solicitor, Charity with Ross, little sister Belle hundreds of miles away in hospital. He confronted Moira and told her he'd be getting his own solicitor and then taunted Charity about Ross. She angrily denied that Ross is her boyfriend saying she was with him to make Cain jealous. And it worked. Cain grabbed her and kissed her. The terrible two are together again!
Nicola was hurt that Jimmy pretended she was dead. He admitted he had been an idiot and bought her a massive bunch of roses. Thorny subject closed.
Get the latest updates, reviews and unmissable series to watch and more!
Thank you for signing up to Whattowatch. You will receive a verification email shortly.
There was a problem. Please refresh the page and try again.