Home and Away spoilers: Alf Stewart is reunited with his first wife Martha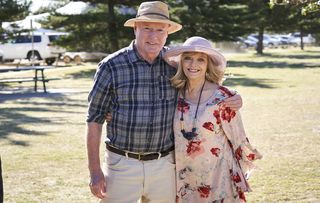 Alf's in for a surprise when his first wife Martha unexpectedly returns to the Bay. So does this mean he's ready to forgive her for faking her own death?
After his unexpected phonecall to his first wife Martha Stewart the other day, Alf Stewart is in for a surprise when Martha decides to pay him a visit in Summer Bay!
Things were definitely frosty between Alf and Martha, when Alf's daughter Roo tracked her down last year. She'd been missing-in-action, having faked her own death 30 years earlier. And Alf had never forgiven Martha for abandoning him and Roo.
But thanks to a bit of matchmaking magic from friends Marilyn Chambers and John Palmer, do Alf and Martha have a second chance for love?
Coco Astoni was excited when she opened a letter to discover she has been offered a scholarship to study Marine Biology at a boarding school in Cairns. However her mum Maggie, who is headmistress at Summer Bay High has other ideas for Coco's education.
Maggie thinks Coco should finish her HSC in Summer Bay and shuts down any further conversation about the scholarship. However, hell hath no fury like an annoyed teenager and Coco intends to fight for her rights!
Wondering if Maggie is secretly upset at the thought of Coco leaving the Bay (remember how she reacted when Ziggy moved out of the Astoni house and in with husband Brody Morgan!), her hubby Ben tries to have a word about the positives of letting Coco accept the scholarship and spreading her wings away from the Bay. But can Ben talk Maggie around?
Meanwhile, Ryder Jackson is still feeling a bit paranoid after Mason Morgan did the whole big brother talk last week and warned the lad from getting too physical with Mason's teenage sister Raffy Morrison.
However, with the news about Willow Harris's shooting and the wedding day kidnappings spreading through town, girlfriend Raffy is in need of some comfort. But when Raffy's other big brother Justin passes by, Ryder immediately pulls away, determined to keep a respectful physical distance from Raffy at all times!
So what will Ryder do when Raffy makes it clear they can be alone together back at home because foster parents John Palmer and Marilyn Chambers aren't about?
Home and Away continues weekdays at 1:15pm and 6:00pm on Channel 5
Get the latest updates, reviews and unmissable series to watch and more!
Thank you for signing up to Whattowatch. You will receive a verification email shortly.
There was a problem. Please refresh the page and try again.