Home and Away Spoilers: Can Tori save Ash?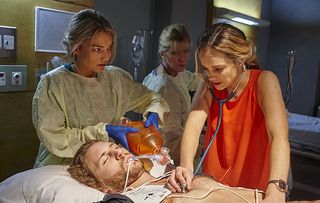 Can Tori do her job for the man she loves?
Ash's life is on the line and Tori is overcome with emotion but tries her best to remain professional. After running tests, Tori is relived to find that Ash's tests results are returning back normal, but she's concerned when Ash starts to show signs that his kidneys are failing.
Robbo meets with a new lawyer from the city in the hope that he can walk away from the trial as a free man. However, after reviewing the case, Robbo's lawyer advises him to plead guilty on the grounds of insanity. Will Robbo take her advice?
Also, Olivia is gobsmacked to find Jennifer sleeping under a picnic shelter. Jennifer admits to Olivia that she doesn't have anywhere to stay and Olivia can't help but feel sorry for her. Olivia takes Jennifer back to see Hunter and Lea, and everyone agrees that Jennifer must reconcile with her father, Nick. Will the father and daughter duo be able to put their differences aside?
Get the What to Watch Newsletter
The latest updates, reviews and unmissable series to watch and more!
Tobi Oredein is an award-winning women's lifestyle journalist, media entrepreneur and international public speaker based in London, who focuses on race, feminism, beauty politics & popular culture. Tobi has been commissioned by Buzzfeed, British Glamour, Grazia, Elle UK, Fader, The Debrief, The Independent, The Pool, Stylist, Vice and others. She has also interviewed public figures such as Ryan Coogler, Ava Duvernay and Sir Trevor McDonald.