Ricky decides to go to London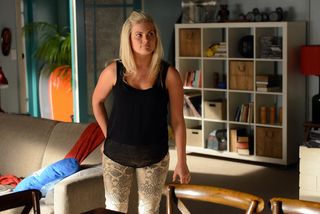 When Ricky sees Brax hanging out with Harley she's reminded of everything she almost had with Brax, but then suddenly, Jess faints. Later, Ricky is angry find out that Nate and Brax have had words about her before and tells Nate that she can fight her own battles. Ricky then gets a phone call... she got the job in London. Nate insists Jess gets checked out at the hospital, but he's shocked when she tells him she has stage 4 cancer and won't live to see Harley's 1st birthday.
Marilyn runs out of John's house when he asks her to move in. When they meet up again Marilyn and John both apologise, agreeing it's too soon to move in together right now, but that they are moving in the right direction. John gives Marilyn a spare key, much to her excitement.
Heath and Jess arrive back from the hospital with little Harley. Bianca tells him she can't handle having a baby around so Heath has to make a choice. Ricky suggests to Bianca that there might be another option, Heath can visit Harley in Melbourne without the baby being in Bianca's life. When Bianca suggests this, Heath vows to do whatever it takes to make it work.
A reluctant Kyle agrees to teach Maddie to play the guitar.
Get the latest updates, reviews and unmissable series to watch and more!
Thank you for signing up to Whattowatch. You will receive a verification email shortly.
There was a problem. Please refresh the page and try again.