Josh admits to taking drugs!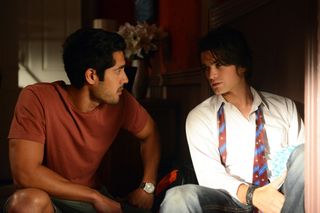 VJ goes for pizza with Maddy, Evelyn and Oscar, but Evelyn's still annoyed at Josh for taking drugs; unbeknown to them, Josh is lying unconscious. Charlotte finds an unconscious Josh lying on the floor and when Andy and Nate mention that Josh should go to hospital, he wakes and starts to panic because of his drug-taking. Suddenly, VJ spots the suspicious figure spying on them and chases him, managing to grab his backpack. VJ and his family empty out the bag and find their family photo inside…
Evelyn goes to see Josh and apologises for not coming round earlier. They both have a heart to heart about his drug-taking and kiss and make up.
Meanwhile, Charlotte gives Zac a cheque for $20,000 to help with his financial problems. Later, she comes home to see the mysterious stranger in her room, who happens to her son Hunter. And Hunter only wants one thing - to see his dad, Zac!
Get the latest updates, reviews and unmissable series to watch and more!
Thank you for signing up to Whattowatch. You will receive a verification email shortly.
There was a problem. Please refresh the page and try again.