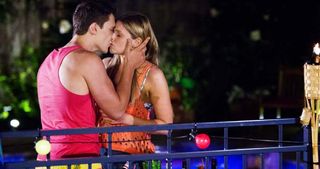 Paige persuades Amber and Imogen to host an impromptu pool party, but when Daniel spies Amber and Joshua sitting together, his jealousy surges and he lashes out at Imogen for inviting him somewhere he wasn't wanted. Meanwhile, Amber and Joshua bond over the mystery photo and Josh kisses her.
Paige observes the flirtation between Naomi and Brennan and feels compelled to give Naomi a gentle warning. When Naomi challenges Brennan, he confesses that he's not in the right headspace for a relationship. Surprisingly, Naomi's pleased and suggests they should consider something purely physical. Brennan agrees … but Naomi playfully backs off.
Feeling the pressure of their mortgage, Matt scores himself a second job. He's about to come clean to Lauren, when she reveals that she too is under added financial pressure at the store. Matt, his pride once again getting in the way, opts against telling her about his new second job.
Brad's confident about submitting his teaching program to Susan for the new school year, but Susan's disappointed, arguing he's been spending too much time making surfboards.
Get the latest updates, reviews and unmissable series to watch and more!
Thank you for signing up to Whattowatch. You will receive a verification email shortly.
There was a problem. Please refresh the page and try again.