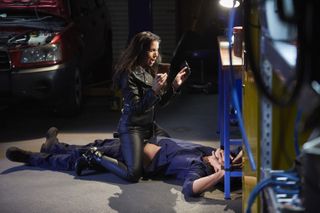 Who is the mystery girl holding Justin captive?
Justin is beaten and tied up in the garage by a new girl called Willow. She soon reveals that the money Justin handed to the police belongs to her and she wants it back or there will consequences. As Willow threatens Justin, Ziggy and Ash walk in, but Willow manages to escape. Ash and Ziggy plead with Justin to go to the police - but will he follow their advice? Later, Willow returns and makes even more menacing threats towards Justin and the Morgan family.
Meanwhile, Ash, Leah, Irene and Alf are becoming deeply concerned about Mick's determination to win custody of Luc. The four of them decide that they need to put a stop to Mick by hindering his chance of getting a job so he can't provide for Luc. Will their plan work?
Also, Brody tells Irene he's struggling to be friends with Ziggy because he still has feelings for her. Later, Brody bumps into Ziggy and the pair decide to try out being friends and go off to play pool. After enjoying her night out with Brody, however, Ziggy makes her way home and bumps into an unstable Mick…
Get the latest updates, reviews and unmissable series to watch and more!
Thank you for signing up to Whattowatch. You will receive a verification email shortly.
There was a problem. Please refresh the page and try again.