Is Kat's job on the line?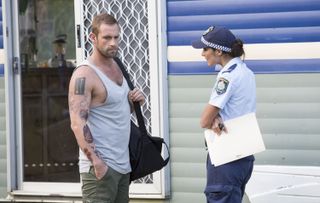 Robbo's suspicions have put Kat in a compromising position...
Kat's furious with Robbo for hacking into her computer, as it could have serious consequences for them both, but they are interrupted by McCarthy and Alf, who tells Kat he thinks the man they're after is at the Caravan Park. As police start looking for clues, their only hope is that forensics can help identity the mystery man. Forensics come in and Kat tells Robbo that the man's name is Dennis Novak, who is a hitman, and his partner was called Becket Reid…
Meanwhile, alone in a hotel room, Mick stares lovingly at the pictures of Luc, that he took from Irene's wallet. Next, Irene arrives and tells him that she has spoken to his social worker and he has been offered two alternative places to stay. Will Mick leave or will he stick around? The next day at the beach, Ash and Tori are enjoying some alone time before they go off to collect Luc from Irene. On their lunch date, Luc calls Tori mum - but how will she react?
Maggie and Ziggy have coffee together and talk about recent events and the pair seem to be on good terms. Ziggy wants to continue bonding with her mum the next day, but Maggie seems a little hesitant. Ziggy refuses to give up on putting things right and she starts with Olivia and explains everything, so that they can continue their friendship. Ziggy asks Olivia for help in picking out a gift for Maggie - but will a present be enough for Maggie to put the past behind her?
Finally, Irene goes to Mick's hotel room to find that he has gone. Mick has made his way into Summer Bay and helps Maggie change her flat tyre - but will Mick bump into Ash?
Tobi Oredein is an award-winning women's lifestyle journalist, media entrepreneur and international public speaker based in London, who focuses on race, feminism, beauty politics & popular culture. Tobi has been commissioned by Buzzfeed, British Glamour, Grazia, Elle UK, Fader, The Debrief, The Independent, The Pool, Stylist, Vice and others. She has also interviewed public figures such as Ryan Coogler, Ava Duvernay and Sir Trevor McDonald.
Get the latest updates, reviews and unmissable series to watch and more!
Thank you for signing up to Whattowatch. You will receive a verification email shortly.
There was a problem. Please refresh the page and try again.