The King's Speech - Sony Movies Channel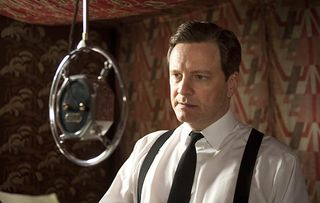 A magnificent film starring Colin Firth as the future King George VI
A magnificent film starring Colin Firth as the future King George VI.
the movie takes an obscure footnote from history and transforms it into an enthralling human drama. It's the 1930s, the era of the wireless, but Firth's prince suffers from a debilitating stutter and stammer that renders him speechless.
He's just about given up hope, but then his wife (Helena Bonham Carter), the future Queen Mum, visits eccentric Australian speech therapist Lionel Logue (Geoffrey Rush) and talks the reluctant royal into going along.
With its superb script (beware the surprisingly strong language as Firth is encouraged to swear as part of his therapy), this instant classic is as moving, witty, clever, informative and dramatic as you could wish for.
Firth is word-perfect, as profoundly touching as he is effortlessly amusing, the warm and funny Bonham Carter offers brilliant support and Rush is a right royal scene-stealer.
The film won four Oscars, for Firth, director Tom Hooper, David Seidler's screenplay and Best Film, and was nominated for eight more.
Get the latest updates, reviews and unmissable series to watch and more!
Thank you for signing up to Whattowatch. You will receive a verification email shortly.
There was a problem. Please refresh the page and try again.