Kirsha desperately needs her family's support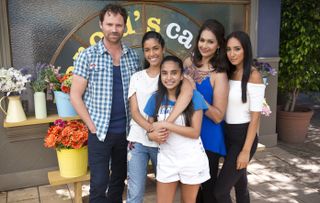 Can the Rebecchi family help Kirsha overcome her problems?
The Sharma-Rebecchi house goes into panic after finding out that Kirsha has gone missing. Yashvi turns down her date with Evan to help find her sister, so Evan volunteers to help find Kirsha, no doubt winning Brownie points with Yashvi. However, Toadie finds Kirsha hiding in the shed. She explains that she never turned up to her sleepover because of her anxiety that stems from being bullied. Will the family rally round and give Kirsha the support she needs?
After Kirsha is found, Yashvi decides to go on her date. However, she decides to let her parents think she is going out with friends. Evan takes Yashvi to Backpackers and Yashvi ends up drinking way too much. Her drunken antics cause her to be chucked out of Backpackers and her mum has words with Evan the next day…
Leo is still upset by the on-going tension between him and his brother. However, it's not just Leo who is getting the cold shoulder from David. Aaron is upset by David's nonchalant attitude towards their romance. So Aaron surprises David at home and he refuses to let him in and acts cagey. Aaron suspects he's found himself another lover. Is Aaron right?
Get the latest updates, reviews and unmissable series to watch and more!
Tobi Oredein is an award-winning women's lifestyle journalist, media entrepreneur and international public speaker based in London, who focuses on race, feminism, beauty politics & popular culture. Tobi has been commissioned by Buzzfeed, British Glamour, Grazia, Elle UK, Fader, The Debrief, The Independent, The Pool, Stylist, Vice and others. She has also interviewed public figures such as Ryan Coogler, Ava Duvernay and Sir Trevor McDonald.
Thank you for signing up to Whattowatch. You will receive a verification email shortly.
There was a problem. Please refresh the page and try again.