Kirsty and Leon get closer...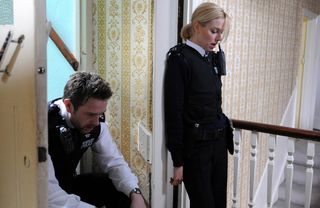 (Image credit: Steven Peskett)
Pcs Kirsty Knight and Leon Taylor make the unpleasant discovery of a woman's body in a bag. But their bad day at work leads to some very close bonding between the bobbies... The dead woman was Luisa Dias and, although Kirsty and Leon found her on dry land, she was actually drowned. They go to the home she shared with boyfriend Dominic and their son, Paulo and it's quickly clear to them that the bathroom in the flat is where she was killed. But Dominic and Paulo are missing... Are they dead, too? While Kirsty and Leon look for clues, another man tries to get into Luisa's flat. Caught by Leon, he says he's Roberto, Luisa's brother and the officers realise he doesn't know his sister is dead. When they break the news, Roberto is devastated and tells them Luisa was planning to leave Dominic. Thanks to Dominic's granny, Kirsty and Leon work out that Dominic is at his former home on the Larkmead Estate. When DI Neil Manson phones him, Dominic admits he killed Luisa and that Paulo is alive and with him. By the time Kirsty and Leon get to him, though, all is not at all well... At the end of the day, the two coppers console each other over drinks then jump in a taxi – together...
Get the latest updates, reviews and unmissable series to watch and more!
Thank you for signing up to Whattowatch. You will receive a verification email shortly.
There was a problem. Please refresh the page and try again.