Leah finds Matt passed out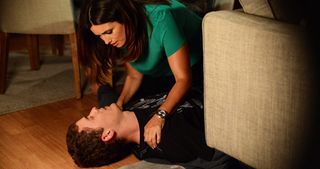 After Leah finds him passed out, Matt sits on the beach drinking and hides his bottle when Leah finds him and confesses she is scared about the path he's heading down. Later, Matt overhears Leah blaming herself for his problems, so he reaches out to her for help.
Phoebe meets Kat for dinner, but bumps into Kyle when he arrives at Angelo's. She asks him to stop his dodgy dealings, but he tells her get lost. Nate bails on Kat as Leah calls him to help with Matt.
Later, when Ricky explains Kyle is on parole, Ash sees a darker side to him. Kat helps sees Phoebe relieve stress at the gym much to Kyle's displeasure. The pair get into a heated argument and Kyle grabs Phoebe, leaving Ash and Ricky to calm things down.
Kat and Ash have a run-in and Ash thinks he's convinced her that no criminal activities are taking place in the Braxton household. However, Kat overhears Ash on a suspicious phone call where he tells Ricky he is doing the job - not Kyle.
Get the latest updates, reviews and unmissable series to watch and more!
Thank you for signing up to Whattowatch. You will receive a verification email shortly.
There was a problem. Please refresh the page and try again.