Leela tries to seduce Ziggy!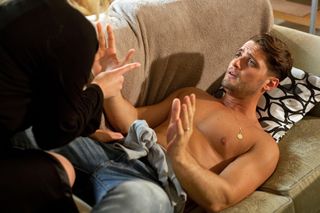 Tegan is angry that her sister Leela hasn't told Ziggy that she's not really pregnant. Leela comes up with the idea to seduce Ziggy in order to get pregnant for real. Unfortunately for Leela, her plan fails when Ziggy turns her down.
Having discovered Kim is 'Goth Boy', Nico stands up to her, but Kim grips the syringe in her pocket. As Kim tries to wrestle Dylan's phone out of Nico's hand, Nico pushes her and Kim falls, banging her head. As Kim lies lifeless on the floor, Nico panics - has she killed her too? Kim wakes and overhears Nico's phone call to Sienna, saying: "I didn't mean to do it again." Kim reaches for her phone, but Nico sees she's awake and stands on it. Lindsey arrives and talks Nico round. Kim tells Lindsey she hits self-destruct to punish herself for what happened to Kath. Lindsey suggests they visit their sister but, at the care home, Lindsey reveals she pushed Kath in the water. Later, Kim transforms herself to look like Lindsey - but why?
Ben is angry with Jason for arresting Trevor. In their cell, Robbie tries to get Trevor to confess to killing Carly, but they're interrupted by Ben and Jason, who release them without charge. Holly's furious with Jason for arresting his brother - but is she just angry because she has feelings for Robbie? Later, Holly tells Robbie she was worried about him and they nearly kiss. Elsewhere, Jason takes his anger out on the punch bag at the garage and Holly's alarmed when arrives to apologise and finds him passed out on the floor.
Also, Patrick asks Maxine to move away with him so he can live out his final days in the sun. Maxine bumps into Darren outside Price Slice and he urges her to let him know if Patrick ever hurts her again. Patrick is draining pasta when suddenly he loses strength in his hand and spills boiled water over himself. Maxine rushes to his aid and promises to be by his side.
Get the latest updates, reviews and unmissable series to watch and more!
Thank you for signing up to Whattowatch. You will receive a verification email shortly.
There was a problem. Please refresh the page and try again.