Little Pink House - Sky Cinema Premiere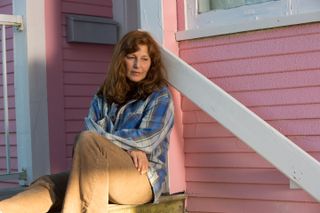 A sturdy indie drama based on a true-story legal battle. 3/5 stars
Catherine Keener's doughty small-town paramedic, Susette Kelo, takes on the powers that be in a David-and-Goliath legal battle that goes all the way to the US Supreme Court in this true-story indie film.
She has done up the modest riverfront house of the title only to find that the local authorities plan to sell it over her head, along with other properties in her blue-collar Connecticut neighbourhood, to a giant drug company as the site for a new plant.
The authorities have Eminent Domain in their favour, the right of governments to seize private property for public use, but Susette won't give in without a fight.
This is nowhere near as rousing a legal drama as, say, Erin Brockovich, but writer-director Courtney Moorehead Balaker does a good job of making a complex story clear, and the understated Keener is terrific as the resilient heroine. Jeanne Tripplehorn is good, too, as her principal foe, the brazenly manipulative, pearl-wearing consultant determined to push the development through.
Get the latest updates, reviews and unmissable series to watch and more!
Thank you for signing up to Whattowatch. You will receive a verification email shortly.
There was a problem. Please refresh the page and try again.