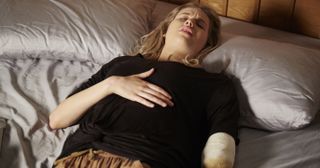 (Image credit: Jeremy Greive)
Maddy is alone when she falls unconscious
The doctors tell Roo, Alf and Matt that Maddy needs to take her medication urgently, or the consequences could be fatal.
Meanwhile, Maddy tearfully visits Oscar's grave but as she heads back to her motel room, she collapses. Maddy's mum, Tanya, arrives and blames Roo for Maddy's accident. The pair comes to blows, but its Roo who is left in tears, when Tanya accuses her of shutting her out of Maddy's life.
Things become tense between Nate and Ricky when Nate tells Ricky he has a job interview to be the Head of the Emergency department. Ricky is surprised to hear the news the day before the interview, but Nate claims he told her a while back….
After the interview, Nate meets Ricky for lunch and it's seems like things between the couple are back on track. However, the mood turns sour when Tori announces that she has been offered the role.
Chris is over the moon when Tori accepts his idea to name the new Emergency ward after Hannah.
Get the latest updates, reviews and unmissable series to watch and more!
Thank you for signing up to Whattowatch. You will receive a verification email shortly.
There was a problem. Please refresh the page and try again.