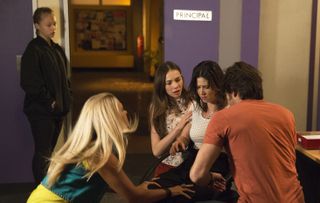 The Astoni family rush to Maggie's aid...
Raffy calls Coco to explain that she's at school with a frightened Maggie. The Astoni family race to Maggie's side and see her crunched up in a corner. They asked what happened and Raffy explains that she threw a brick through a window but was unaware that Maggie was inside. Marilyn and John are horrified to hear about Raffy's actions and say she will work at The Diner to cover the cost of the damage. Later, Raffy has a heart to heart with Justin and makes a decision about her life in Summer Bay...
Meanwhile, desperate to impress Kat after her disastrous birthday, Robbo ropes in Leah, Marilyn and Justin to help plan the perfect surprise. With each friend playing their part, Robbo surprises Kat with a slap-up meal in the city and a beautiful necklace as a birthday present. Kat's overjoyed with the effort Robbo has made but, as the pair enjoy their romantic meal, they're unaware they're being watched.
While Maggie is taking a nap, Ziggy apologises to her mother, not noticing that Coco's listening to her every word. Coco is suspicious of Ziggy's apology and starts snooping through her stuff, only to find a newspaper clipping about Maggie's attack in her last school. Coco confronts her sister and demands to know if Ziggy was at the scene of the crime when Maggie was attacked. Will Ziggy come clean? Also, will someone discover that Coco has an eating disorder?
Get the What to Watch Newsletter
The latest updates, reviews and unmissable series to watch and more!
Tobi Oredein is an award-winning women's lifestyle journalist, media entrepreneur and international public speaker based in London, who focuses on race, feminism, beauty politics & popular culture. Tobi has been commissioned by Buzzfeed, British Glamour, Grazia, Elle UK, Fader, The Debrief, The Independent, The Pool, Stylist, Vice and others. She has also interviewed public figures such as Ryan Coogler, Ava Duvernay and Sir Trevor McDonald.