Will Mitch let slip a dark family secret that could destroy the Taylors?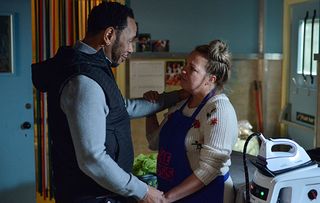 (Image credit: BBC / Kieron McCarron)
Keegan unwittingly overhears a dark family secret when he finds his dad Mitch Baker discussing it with his mum Karen Taylor.
Keanu wakes up in the morning to discover that Mitch stayed over and is furious, storming out of the house. Later, Mitch visits Keanu and tries to explain that he only wants to help the family but Keanu refuses to believe him. Later, Mitch asks Karen why she's never told Keanu the truth about his own dad. Karen works herself up to tell Keanu but he won't hear her out and says he's going to stay with Jay until Mitch leaves. Keegan overhears Karen talking to Mitch about Keanu's dad and learns the shocking truth…
Denise realises that Patrick is not too keen on getting a new sofa and he's forced to confess that he's been talking to a woman online that he used to date when he was young. Denise is shocked when Patrick says that they still love each other and they want to get married! Meanwhile, Patrick learns some worrying news from Joyce.
Kathy is sceptical about Ian's insistence that he's turned over a new leaf and now has a positive and forward thinking outlook. In which case, why is he trying to get back together with his ex, Mel?! Billy, meanwhile, suggests to Jack that Mel has got her eye on him. Jack has another go at flirting with her but his attempts get him nowhere.
Get the latest updates, reviews and unmissable series to watch and more!
Thank you for signing up to Whattowatch. You will receive a verification email shortly.
There was a problem. Please refresh the page and try again.