The Negotiator - Sky Cinema Premiere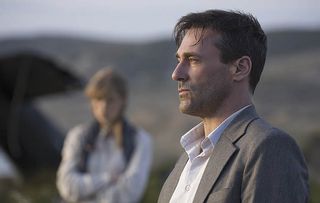 (Image credit: Signature Entertainment)
A gripping political thriller starring Jon Hamm as a burnt-out former US diplomat thrust into a hostage crisis in war-torn 1982 Beirut
A gripping political thriller starring Jon Hamm as a burnt-out former US diplomat thrust into a hostage crisis in war-torn 1982 Beirut.
The film opens 10 years earlier when Beirut is a buzzing cosmopolitan city where you can 'ski in the morning, swim in the afternoon and party all night'. Deputy chief of mission at the local US embassy, Hamm's charming, high-flying diplomat is right at home here and he and his Lebanese wife (Leïla Bekhti) have even taken in a 13-year-old Palestinian refugee, treating him as a surrogate son. Then violence strikes, devastating his life.
When we catch up with him again he is an alcoholic wreck, back in the US and working as a negotiator in labour disputes. Beirut is the last place on Earth he'd like to be, until he finds himself coerced by the CIA to return. A Palestinian terrorist group has kidnapped his old friend (Mark Pellegrino) and they have insisted that Hamm negotiate his release.
Now in the midst of civil war, Beirut is a tinderbox of vengeful factions and hidden agendas. And with neighbouring Israel looking for an excuse to invade, the situation is becoming more perilous by the minute. Can the reluctant Hamm pull off his fraught mission?
Screenwriter Tony Gilroy wrote several of the Bourne films and this is another taut and compelling thriller. Hamm is terrific as the washed-up hero, and he gets vivid, characterful support from Rosamund Pike as a cool-headed CIA agent.
Get the What to Watch Newsletter
The latest updates, reviews and unmissable series to watch and more!