Neighbours spoilers: Can Dipi Rebecchi save sister Mishti Sharma's doomed relationship?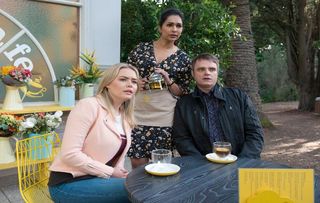 Dipi is still reeling from her sister Mishti's accusation that she's to blame for Pavan calling off the arranged marriage. Can Dipi prove she's innocent?
Mishti Sharma is still on the warpath after fiance Pavan Nahal called off their arranged marriage, and she blames her sister, Dipi Rebecchi! Dipi has been opposed to the idea of an arranged marriage from the start. So policewoman Mishti believes Dipi was the one who made sure Pavan saw the intimate video of Mishti that was leaked online a while ago.
Dipi swears she didn't meddle in Mishti's business and decides to turn detective to find out how Pavan got to see the embarrassing video. Can Dipi prove she's innocent? Or will her investigation into Mishti's personal business just make things worse?
Elsewhere in Erinsborough, Gary Canning is still sweating over ways to raise enough money to replace the $100,000 he swiped from dodgy criminal Jeremy Sluggett's bag of stolen cash. With Jeremy's mum Nance expecting to collect the cash soon, the clock is ticking.
Gary's money troubles could be unexpectedly solved, however, when his daughter Xanthe Canning has a crisis of confidence and appears to change her mind about wanting to go to university after all. Could Gary use Xanthe's university deposit money to clear his debt?
Meanwhile, after all the drama surrounding Piper Willis and her killer boyfriend Cassius Grady, protective dad Paul Robinson decides to do some snooping into the background of his daughter Amy Williams's new fella, Dr Rob Carson. Could Rob be hiding a shock secret?
Neighbours continues weekdays at 1:45pm and 5:30pm on Channel 5
Get the latest updates, reviews and unmissable series to watch and more!
Thank you for signing up to Whattowatch. You will receive a verification email shortly.
There was a problem. Please refresh the page and try again.