Neighbours Spoilers: Leo and Chloe get passionate!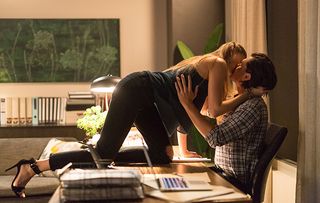 (Image credit: Jackson Finter)
Is Leo over Mishti?
Terese demands that Chloe is fired by Leo after making one too many mistakes. Leo attempts to fire Chloe but she begs for another chance to redeem herself as she has come up with an idea to help Toadie make some money. Will Leo give Chloe a chance? Also, how will Leo react when Chloe kisses him…
Clive is on edge when he hears that Rita is planning to fund Karl's project. His fears continue to grow when Xanthe tells him that rumours among the staff are that Clive won't be COO for much longer. Clive confronts Karl but the pair end up arguing, so Karl comes up with a plan to stay on as COO and it involves Toadie…
Also, Toadie and Steph get into a treasure hunt at No 30 and find a box of Callum's stuff and piece of jewellery. Could Toadie's money worries be solved? Also, the treasure hunt makes Steph emotional and convinces her to reach out to her son.
Tobi Oredein is an award-winning women's lifestyle journalist, media entrepreneur and international public speaker based in London, who focuses on race, feminism, beauty politics & popular culture. Tobi has been commissioned by Buzzfeed, British Glamour, Grazia, Elle UK, Fader, The Debrief, The Independent, The Pool, Stylist, Vice and others. She has also interviewed public figures such as Ryan Coogler, Ava Duvernay and Sir Trevor McDonald.
Thank you for signing up to Whattowatch. You will receive a verification email shortly.
There was a problem. Please refresh the page and try again.