Nico's furious with Sienna!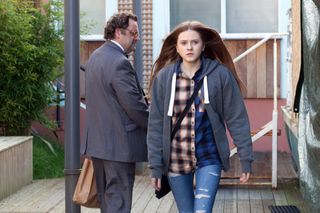 Nico is hell-bent on finding out who Dylan's been seeing behind her back. He spins her a lie about the top belonging to Grace but, when Sienna spots her silky top in Nico's bag and questions what she's doing with it, Nico jumps to the conclusion that Dylan has a crush on her mother. Dylan doesn't deny it – it's better than telling her the truth. Nico is furious with Sienna and, when Sienna has an allergic reaction to a bee sting during a picnic, Nico leaves her for dead.
It's Jason's first day as a PCSO and he's immediately on edge when Sergeant Ben Bradley tells him they'll be working on Dylan's hit and run case. Ben's suspicious about Jason's involvement in the hit and run and researches the teen. He's concerned by what he finds and confronts Jason. Elsewhere, Zack confesses to his dad about the accident, while Jason buries Joe's gun in Rick's grave.
Meanwhile, Joe goes to visit Phoebe and is horrified to find her bed is empty and all her belongings have been packed away; is she dead? Dr S'avage reassures him that she's been moved to a different room.
Also, Harry is caught out when Cleo confronts him about being gay. Harry begs her to believe it's not true and Cleo tells him she loves him, as she leads him upstairs to her bedroom…
Get the latest updates, reviews and unmissable series to watch and more!
Thank you for signing up to Whattowatch. You will receive a verification email shortly.
There was a problem. Please refresh the page and try again.