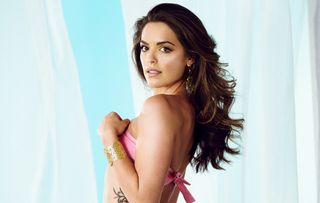 Paige is coping with Mark's new relationship with Elly...
Paige is struggling to contain her emotions as she watches Mark and Elly spend more and more time together. In fact, she is so overcome with emotion that she backs out of working on the Shed relaunch with them. Mark and Paige can't help but act on edge around each other and David and Tyler notice the tension between them both. Can David and Tyler play cupid?
With Sonya giving Willow her blessing to stay in Ramsay Street, Toadie decides it's time to move out from Shane and Dipi's place and look for somewhere with a bit more space. Amy tries to convince Toadie to tell Sonya about his plans to rent a flat, but he refuses as he's certain that Sonya wants their separation to be permanent. However, Sonya is devastated when she finds out that Toadie is looking for places to rent. Will this be the catalyst for them to reunite?
Get the latest updates, reviews and unmissable series to watch and more!
Tobi Oredein is an award-winning women's lifestyle journalist, media entrepreneur and international public speaker based in London, who focuses on race, feminism, beauty politics & popular culture. Tobi has been commissioned by Buzzfeed, British Glamour, Grazia, Elle UK, Fader, The Debrief, The Independent, The Pool, Stylist, Vice and others. She has also interviewed public figures such as Ryan Coogler, Ava Duvernay and Sir Trevor McDonald.
Thank you for signing up to Whattowatch. You will receive a verification email shortly.
There was a problem. Please refresh the page and try again.