Paige tries to kiss Brennan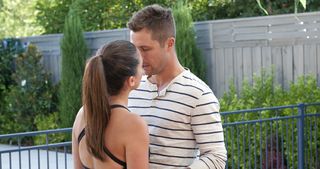 Paige and Tyler rush to the garage, only to find that Nate has overcome Michael Coluzzi. Nate further surprises them when he agrees to pay out their debt. Later, Paige tries to kiss Brennan but he rejects her, after all, his brother's "girlfriend". Unable to tell him the truth, she ends her arrangement with Tyler, completely unaware that just as she is heart-broken over Brennan, so too is Tyler over her.
Robin is confident they have a winning design for the Lassiters' rebranding and Lauren happily agrees. Later, Brad returns to square things with Lauren and she in turn says sorry for throwing him out. Elsewhere, Terese tells Naomi she hates what Robin and Lauren have come up with. When Lauren innocently relates her positive news to Brad, he confronts Terese accusing her of trying to set Lauren and Robin up!
Also, Daniel flies to Mt Merrion to appeal to Amy to return to Erinsborough. He discovers that's she's in dire straits financially, but despite his best attempts, she refuses to engage with him…until he makes a heartfelt plea.
Get the latest updates, reviews and unmissable series to watch and more!
Thank you for signing up to Whattowatch. You will receive a verification email shortly.
There was a problem. Please refresh the page and try again.