Piper and Broadie are busted by Josh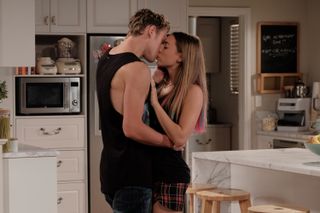 Broadie promises to take Piper on a surprise date tomorrow after his training session. But as she eagerly waits for him, Brad keeps him late and Brodie misses the date. He begs for forgiveness and she kisses him… only to be busted by Josh!
Amy tells Nene she needs to accept the consequences of what she's done and see a doctor to get medication. Nene agrees, hiding her true panic over the idea of medication. Amy tells Karl that Nene is cooperating, and Karl agrees that if she's really seeking treatment he won't put in an official complaint that could see her stripped of her nursing license for good. But he does explain they still need to tell Brad and he may decide to take things further.
Steph is furious after Paige's attack, and Mark agrees to stay with her – just as friends, of course. But their simmering attraction soon boils over. Paige visits Steph to make amends, only to discover she and Mark have spent the night together. Devastated Paige realises she really has lost Mark for good.
Get the latest updates, reviews and unmissable series to watch and more!
Thank you for signing up to Whattowatch. You will receive a verification email shortly.
There was a problem. Please refresh the page and try again.