Is Raf the daddy of Kim's baby?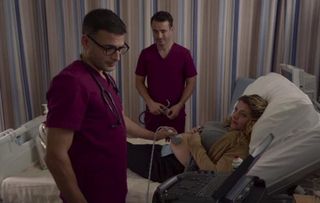 The medic is stunned Kim when returns to Holby – and she's having a baby!
Raf Di Lucca's love life started looking up late last year when he bonded with patient Kim, who was put on kidney dialysis after abusing prescription drugs. Once Kim was discharged, the pair had a fling. Registrar Raf hasn't heard from Kim in 10 weeks, so he's surprised when she suddenly turns up at the hospital this week – and she's pregnant!
Both Raf and Kim are stunned when an ultrasound scan shows Kim's having twins. But there are further shocks in store for Raf when Kim reveals she's actually 10 weeks pregnant... and he's the daddy! Raf's always believed he's infertile but, as the news sets in, he's over-the-moon about the prospect of finally becoming a dad.
When Kim develops severe pains, she fears she's losing her babies, and Raf worries when Isaac struggles to find a second heartbeat on a further scan. Concerned, Raf takes over, and is thrilled when the heartbeats of both his 'little miracles' come through loud and clear. But is it all too good to be true?
With love all around on Darwin on Valentine's Day, Matteo's still smarting about being dumped, while Jac protests she's happy being single. When Matteo springs a surprise gift on Jac, however, she's forced to face her feelings for him. But Mo's attempts at playing Cupid don't go according to plan…
Also, Bernie and Serena clash when Bernie discovers she's drinking heavily to cope with her recent loss… and is lying about it. As Serena's erratic behaviour escalates, a conflicted Bernie is forced to take drastic action.
Get the latest updates, reviews and unmissable series to watch and more!
Thank you for signing up to Whattowatch. You will receive a verification email shortly.
There was a problem. Please refresh the page and try again.