Robert Preston's arrested for drink driving in Corrie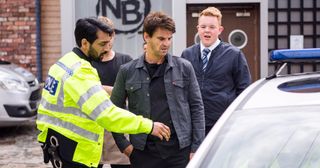 (Image credit: Mark Bruce)
Nick reports Robert Preston to the police and he's arrested in Corrie
The police pull up behind Robert Preston and explain they've had a tip off about him drink driving. Having failed the breathalyser, Robert is arrested. Nick watches with glee and under Steph's glare, admits he reported Robert to the police. Robert returns and pouring himself a whisky, tells Steph and Andy he's looking at a fine and a 12-month ban, forcing Steph to admit Nick dobbed him in. Meanwhile, Nick tells Leanne that although he wants revenge on Robert, he's serious about his new business and wants her to be a part of it - but they're interrupted by a furious Robert.
Sally's grateful when Todd warns her to make sure Phelan's development proposal is watertight. When she later underlines the need for total transparency, Phelan masks his irritation realising Todd's interfered.
Craig works on his police application form and asks Beth if there have been any convictions in the family. Beth lists a couple of minor offences but later lies to Craig and assures him she's posted his form.
Aidan confides in Johnny how he's planning a surprise mini break for Eva, while Johnny reveals his plans to rent Carla's flat. Kirk takes a message from an estate agent saying that Mr Connor can pick up the keys to his new flat. Assuming them to mean Aidan, Kirk passes the message onto Eva who's thrilled.
Get the latest updates, reviews and unmissable series to watch and more!
Thank you for signing up to Whattowatch. You will receive a verification email shortly.
There was a problem. Please refresh the page and try again.