Scout panics as Rhiannon collapses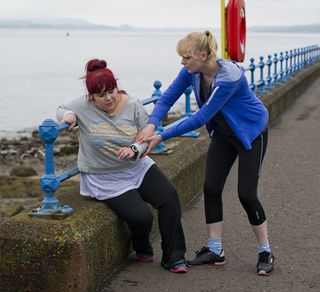 (Image credit: www.alanpeebles.com)
Rhiannon is struggling with her weight, and she's sick and tired of being picked on by everyone at school. She runs out of the class when it gets too much for her, and Audrey goes to talk to her. She assures Rhiannon that she used to be overweight and that she understands what she's going through. To try and help the situation, Audrey suggests that Rhiannon and Scout come power walking at lunchtime to try and iron out their issues and get some exercise. But it doesn't go to plan, and Rhiannon collapses due to her self-harming. Scout is saddened and upset, and the two become close. Back at school, Rhiannon admits to Audrey what she's been doing. Meanwhile, Lorraine arrives at school with a new PA for Michael - not that he knows what she's got in store! Sonya is keen to make a good impression on Mr Byrne and the rest of the school, but she struggles to win him over with her ditzy approach. Plus, as Michael discovers, the link between Lorraine and Sonya is closer than he thought as it transpires that they're sisters! The ongoing feud between Christine and Audrey shows no sign of slowing down this week, and Michael decides to bring their mediation session forward. Sian is chairing the discussion when Audrey openly apologises to Christine. Sian then says to Christine that if she accepts Audrey's apology, they can all move on. However, Christine has other ideas and she says that she's going to continue with the complaint.
Get the latest updates, reviews and unmissable series to watch and more!
Thank you for signing up to Whattowatch. You will receive a verification email shortly.
There was a problem. Please refresh the page and try again.