Coronation Street spoilers: Is the wedding off for Rana Nazir and Kate?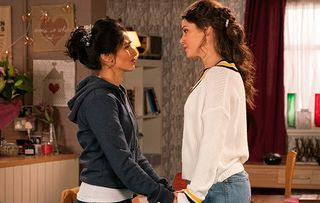 Kate suggests to Rana Nazir that they postpone the wedding.
When Imran hands Rana Nazir a wedding gift from their mother she breaks down, wishing her mum was there to share her big day. When Kate suggests they postpone the wedding will an emotional Rana agree?
In a huge week of episodes Carla Connor as her world comes tumbling down. She's shocked to learn Peter has bought a new boat and is leaving today and won't be coming back. Kate urges to Carla to go after him and tell him how she really feels. As they stop outside Freshcos, en route to Southampton, Ken sees a call coming through from Carla and before Peter can stop him he reveals they're parked up. With emotional and financial pressures mounting in a rare show of vulnerability, Carla jumps into Ken's car and tells a stunned Peter she loves him, begging him not to go. How will Peter react?
As Nick assures Leanne that Carla won't get away with her plans to cut him out of the business, while the staff plan to protest about Carla's intentions by occupying the factory. Joined by Gemma and Emma they swarm into the building.
Finding Gary up early, Gail wishes him a happy birthday. With the house to themselves later, a flirtatious Sarah tells Gary she intends to spoil him. When Natalie sends Nick a selfie showing she's at Audrey's having her hair done, he and David are suitably worried.
First episode of Corrie tonight.
Get the latest updates, reviews and unmissable series to watch and more!
Thank you for signing up to Whattowatch. You will receive a verification email shortly.
There was a problem. Please refresh the page and try again.