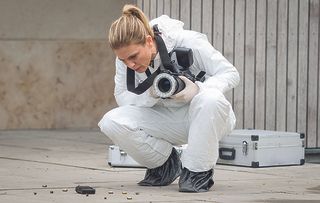 (Image credit: BBC/Sally Mais)
It's a 'less-than-merry' Christmas for the forensics team as they attend a crime scene at a posh house in the country
It's a 'less-than-merry' Christmas for the forensics team as they attend a crime scene at a posh house in the country, and you may find yourself shouting at the screen as Nikki (Emilia Fox) goes walkabout despite the fact that there is apparently a gunman still at large.
She even goes down to the basement which, as horror fans know, is never a good idea.
The clues come thick and fast as the team do a sweep – burned-out car, three dead bodies, firearms, drugs, fake passports and even a horse with a gunshot wound! As Jack (David Caves) observes: 'This is not the Christmas I was expecting…'
The case concludes tomorrow…
Get the latest updates, reviews and unmissable series to watch and more!
Thank you for signing up to Whattowatch. You will receive a verification email shortly.
There was a problem. Please refresh the page and try again.