Silver Linings Playbook - C4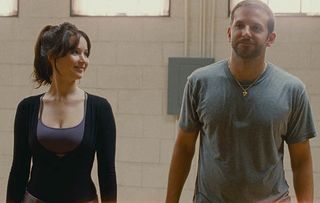 Bradley Cooper is a bipolar ex-teacher and Jennifer Lawrence is a depressed young widow who talks him into becoming her dance partner in an upcoming competition
Bradley Cooper is a bipolar ex-teacher and Jennifer Lawrence is a depressed young widow who talks him into becoming her dance partner in an upcoming competition.
In an age when Hollywood churns out by-the-number romcoms that are either raunchy or mushy, this delightfully offbeat gem breathes fresh life into the genre.
Cooper's newly discharged psychiatric patient returns home to Philadelphia, determined to win back his ex-wife. So when Lawrence enters his life, he initially spurns her advances and it is only with great reluctance that he agrees to be her partner in the competition.
Slowly, surprisingly, the damaged duo begin to heal each other.
We can all guess how things are going to turn out, but there is so much to applaud in writer-director David O Russell's script, adapted from Matthew Quick's 2008 novel.
In fact, Russell steers the story so skilfully that by the time the dance contest comes around it is impossible not to cheer.
The cast of this sweet, kooky and extremely funny film is perfect, too. As Cooper's neurotic bookmaker dad, Robert De Niro is hilarious, the best he's been in years, and he is well partnered by Jacki Weaver as his fussy mother.
But the movie's truly magical chemistry comes from the charismatic Cooper and the spellbinding Lawrence, whose electrifying performance deservedly won her an Oscar.
Get the latest updates, reviews and unmissable series to watch and more!
Thank you for signing up to Whattowatch. You will receive a verification email shortly.
There was a problem. Please refresh the page and try again.