Stacey Dooley Sleeps Over – W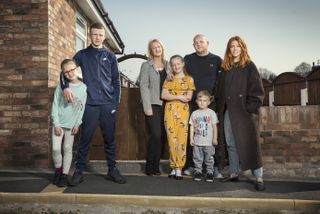 This week, Stacey spends a few days in the life of a cage-fighting teen and his family in Preston in Stacey Dooley Sleeps Over on W
In this week's Stacey Dooley Sleeps Over on W, Stacey spends the weekend in Preston with Craig and Lindsey Sumner, whose 14-year-old son Kyle has been cage fighting since the age of four and is one of the best fighters in his age group.
Cage fighting, or mixed martial arts, is a notoriously dangerous sport, but shockingly, kids as young as five are taking part.
'I don't like it and I'm usually shaking when I watch his fights,' admits mum Lindsey.
'Brain damage is a big worry but how do I tell him not to do it when he's so good?
'How do I spoil a kid's dream?
'His passion could make him a fortune and I don't think that I should stop him because of my worries.'
MORE: Stacey stays over with more families
Over the weekend, Stacey watches Kyle fight in front of a huge crowd and tries to understand why his parents allow him to take part in a sport that could lead to serious injury, or worse.
Kyle is home-schooled so he can train five times a week and hopes to make the GB squad.
And dad Craig believes the discipline of the sport is beneficial for his son.
'If he wasn't doing this, Kyle would 100 per cent either be getting arrested or be on the streets drinking,' he insists.
'Kyle's reaction has always been to fight.
'It's better he's doing it in a productive way in a controlled environment.'
TV Times rating: ****
Get the latest updates, reviews and unmissable series to watch and more!
Thank you for signing up to Whattowatch. You will receive a verification email shortly.
There was a problem. Please refresh the page and try again.