Terese can't enjoy her hen night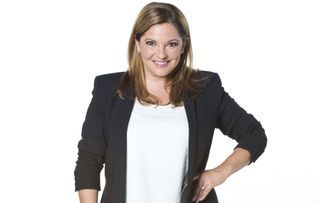 Terese confesses her infidelity to Susan
As Terese celebrates her hen night, her feelings of guilt start to seep through and Xanthe begins to notice that her stepmother isn't acting herself. Xanthe asks Susan to speak to Terese to get to the bottom of her strange behaviour. Susan has a candid chat with her and Terese admits that she slept with Paul. Will Susan still be able to officiate the wedding and will she tell Gary the truth?
Meanwhile, Paige is stunned to hear that things are over between Mark and Elly and decides that maybe it's time she makes her move and tells him how she feels. As she heads over to his house, she bumps into Elly who berates her for making a move on Mark so quickly. After the showdown, it's clear to both women that their friendship is beyond repair. To make matters worse, Paige finally speaks to Mark and things don't exactly go to plan...
Also, Elly wants to drown her sorrows and Leo decides to be the supportive friend she needs. However, their night as friends take a strange turn when a drunk Elly makes a pass at Leo, unaware he's romantically linked to Mishti. Unfortunately, Dipi witnesses Elly's pass at Leo and comes to her own conclusions…
Tobi Oredein is an award-winning women's lifestyle journalist, media entrepreneur and international public speaker based in London, who focuses on race, feminism, beauty politics & popular culture. Tobi has been commissioned by Buzzfeed, British Glamour, Grazia, Elle UK, Fader, The Debrief, The Independent, The Pool, Stylist, Vice and others. She has also interviewed public figures such as Ryan Coogler, Ava Duvernay and Sir Trevor McDonald.
Get the latest updates, reviews and unmissable series to watch and more!
Thank you for signing up to Whattowatch. You will receive a verification email shortly.
There was a problem. Please refresh the page and try again.