Terese uncovers Brad's infidelity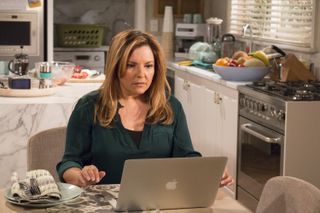 Lauren wakes up next to Brad, who resolves to be honest with Terese and Lauren can see his point, agreeing it's the best option. He returns home but Terese is pouring wine down the sink - she's truly ready to admit she has a drinking problem. Brad holds off on his admission as Terese slips out to visit Lauren.
When Lauren is met with a humble request for help finding a counselor, she calls Brad - they can't do this today. Meanwhile, Terese is forwarded an email from Paul; an aerial survey of the neighbourhood which reveals Brad and Lauren kissing. Terese hides her hurt as Brad returns and, while he's distracted by the kitchen fire alarm, she goes to see Lauren.
Brad follows her as Terese snaps and pushes Lauren into the Turner pool before storming off. Brad is torn, but Lauren tells him to follow his wife. Terese rejects Brad, telling him to go back to Lauren. At home, Terese throws out Brad's picture and calls the kids; it's time everyone found out about Brad and Lauren.
Get the latest updates, reviews and unmissable series to watch and more!
Thank you for signing up to Whattowatch. You will receive a verification email shortly.
There was a problem. Please refresh the page and try again.