The British Tribe Next Door – C4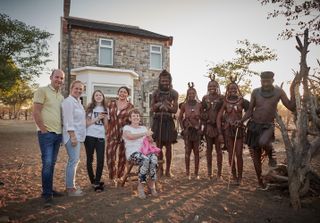 (Image credit: David Bloomer)
Scarlett Moffatt has a life-changing experience as she swaps the North East for Namibia in C4's new anthropology series The British Tribe Next Door
In C4's new four-part series The British Tribe Next Door, Scarlett Moffatt and her family up sticks to spend four weeks living alongside the nomadic Himba tribe in Namibia.
As if that doesn't sound surreal enough, the Moffatts' County Durham home and all 22,000 possessions go with them – cue much marvelment from the tribespeople, who have never encountered stairs, scatter cushions and washing machines.
There are some touching moments when body-conscious Scarlett is made to question the Westernised perception of beauty and body image by tribeswomen who long for her stomach rolls.
You'll probably want to declutter after watching!
Scarlett tells TV Times more about the life-changing experience (see our TV Guide for full listings)…
What did you and your family think when asked to take part in The British Tribe Next Door?
We haven't done anything together since Gogglebox, so we all jumped at it.
How many people get the opportunity to do something like this?
It sounded amazing and it was.
We made such good friends and I learnt so much, weirdly, about myself.
How did the rest of the Moffatt family cope?
My Nanny had the best time, mixing with the elders and teaching them how to knit!
My dad had to do cattle herding and lost them in four minutes, which prompted lots of lads' banter from the tribesmen taking the mickey!
Mum loved it too, apart from her new best friend kept asking if she could share my dad one night in the bedroom.
Mum had to explain that wasn't how we like to do things!
What did you learn from it?
That family and community is most important, not possessions.
That beauty is what's inside a person, not outside.
And that language and different lifestyles are no barrier to friendship.
I became so close with the Himba women – we'd sit around, make up songs and have a laugh.
If only I could Facebook them!
TV Times rating: ****
Get the What to Watch Newsletter
The latest updates, reviews and unmissable series to watch and more!