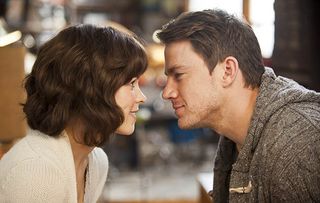 (Image credit: Kerry Hayes/ SMPSP)
This glossy romantic drama stars Rachel McAdams, who wakes up from a coma following a car accident and can't remember her husband (Channing Tatum)
This glossy romantic drama stars Rachel McAdams, who wakes up from a coma following a car accident and can't remember her husband (Channing Tatum).
So he has to woo her all over again.
However, the crash has obliterated all trace of the last five years, so McAdams doesn't remember falling out with her stuffy, upper-class parents (Sam Neill and Jessica Lange) and has forgotten dropping out of law school and reinventing herself as a hip sculptor.
She does recall her engagement to her smarmy ex-fiancé (Scott Speedman), though, and quickly reverts to being the 'sweater-set-wearing mojito-drinking sorority girl' she'd been before her bohemian change of heart.
Will Tatum rediscover her free spirit and can he make her fall in love with him again?
Loosely inspired by the experiences of a real-life couple, this touching drama aims strictly for the tear ducts and McAdams and Tatum's engaging chemistry makes it easy to root for them to be together.
Get the latest updates, reviews and unmissable series to watch and more!
Thank you for signing up to Whattowatch. You will receive a verification email shortly.
There was a problem. Please refresh the page and try again.