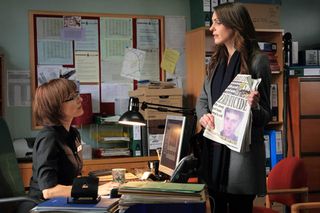 This week's story centres around Jeremy Leach, an infamous serial killer who was imprisoned 13 years ago for the rape and murder of four women in the South West. Now another woman has been raped and murdered and Leach's exact method has been used. Because Gill helped catch Leach when she worked as a special officer for the National Crime Faculty, she's brought in to advise on the new killing, and decides to take Rachel with her. Articulate and intelligent, Leach plausibly claims to be an innocent man, and that this latest killing shows that the real murderer is still out there. Meanwhile, Rachel discovers Dom renting himself out for sex with men. She goes ballistic, but is then heartbroken to realise that this is what he's had to do in prison. She makes it clear he can't do this any more and that he has to get an HIV test. Dom goes AWOL as a result, but eventually comes round to accepting that he should get himself tested. But unknown to Rachel, he's started drinking again, contrary to the conditions of his licence. Rachel learns from Gill that the CPS are not going to charge Nick Savage with her attempted murder. Both women are appalled and Rachel questions her instincts and wonders how she can have been in love with such a man.
Get the latest updates, reviews and unmissable series to watch and more!
Thank you for signing up to Whattowatch. You will receive a verification email shortly.
There was a problem. Please refresh the page and try again.