Tilly gets her revenge on Jen!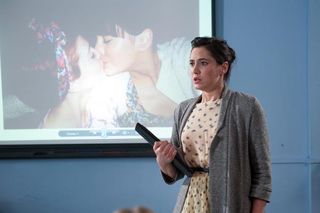 Tilly has to face up to her own demons and plants Esther's tell-all diary in John Paul's pigeon hole at college, with details of her and Jen's affair in it. At the college open day, Jen is proud to be giving a speech to the prospective parents, but she's humiliated when images of her and Tilly in various romantic clinches are projected behind her... busted!
As if their week couldn't get any worse, Phoebe's court date arrives. Jacqui is in a moral quandary when Trudy offers her the chance to get Phoebe off any charges, which Jacqui accepts, knowing she'll owe Trudy big time. Later, Jacqui is horrified when she finds out Trudy has sold a batch of the dodgy vodka to Chez Chez for Maxine and Liam's costume cocktail party.
Maxine is delighted when Liam returns. They break into Chez Chez to recover the abandoned alcohol following the Bradys' departure and plan a themed cocktail night that promises to go off with a bang. The entrepreneurial pair decides to buy Chez Chez and run it together
Also, John Paul's professional integrity is tested when he learns of Jen's indiscretions and wonders whether she'll she get her comeuppance.
Get the latest updates, reviews and unmissable series to watch and more!
Thank you for signing up to Whattowatch. You will receive a verification email shortly.
There was a problem. Please refresh the page and try again.