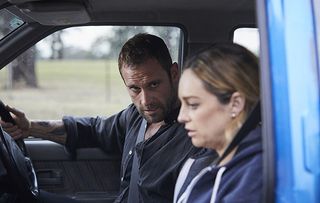 Robbo goes to desperate lengths to prove his innocence
The confrontation between Kat and Robbo continues, as Robbo pours his heart out to Kat and says that he doesn't remember his old life as Beckett Reid. Robbo grows more and more agitated, as it's clear Kat wants to leave. He tells Kat he loves her and pins her down when she tries to flee.
Desperate to leave, Kat says she has stomach cramps and needs an ambulance.  Robbo refuses to call the hospital, but calls Tori instead. When Tori arrives, she immediately senses something is wrong and plays along with Kat, saying she needs to get to a hospital, but the plan backfires dramatically and Tori's life is put in danger...
Olivia and Hunter are finally in a good place, but Olivia is left stunned when Axel says he wants to take her to Paris Fashion Week. Olivia needs time to think about it and asks for Irene's opinion. Irene is furious that Olivia is considering the idea. Will Olivia take the offer? Also, Hunter starts to suspect something is wrong between him and Olivia when both Irene and Ziggy struggle to be positive about his proposal.
Also, Ziggy is avoiding Jarrod like the plague and Maggie reprimands her daughter's behaviour. Meanwhile, Ben starts to side with Jarrod when he finds out he's broke, leaving Ziggy annoyed…
Get the latest updates, reviews and unmissable series to watch and more!
Thank you for signing up to Whattowatch. You will receive a verification email shortly.
There was a problem. Please refresh the page and try again.