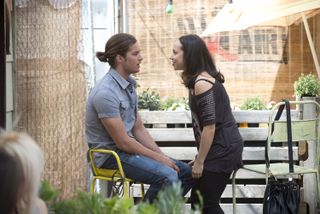 Tyler's dismayed to realise Piper's taken their kiss to heart and tries to downplay it. Later, things get worse for Piper when she sees photos on Imogen's Bla Bla page, showing Imogen and Tyler having a great time at Off Air. It's the last straw and she heads out, ignoring the fact she's grounded.
Later, Imogen's surprised when Tyler turns her down when she tries to kiss him. Unbeknownst to her, he's worried about hurting Piper. Later, he bumps into Piper, who admits she's not as experienced as she led him to believe. They start speaking openly about their kiss, unaware that Terese has heard them.
Sheila speaks to Gary and he confirms Xanthe is his daughter. Kyle decides to get to know her, but her snobbish attitude soon puts him off. Sheila urges Kyle to be sympathetic, but Kyle's not sure when Xanthe tells a friend on the phone that she hates her new family and will simply get some money from them then leave.
Get the latest updates, reviews and unmissable series to watch and more!
Thank you for signing up to Whattowatch. You will receive a verification email shortly.
There was a problem. Please refresh the page and try again.