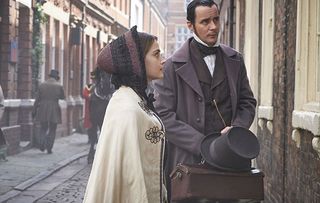 Mum star Sam Swainsbury on playing an important but often overlooked figure in British history as he guest-stars in Victoria as pioneering doctor John Snow
Mum star Sam Swainsbury on playing an important but often overlooked figure in British history as he guest-stars in Victoria as pioneering doctor John Snow
Marital strife between Victoria and Albert is at an all-time high, as the bickering couple are only communicating via notes delivered by long-suffering staff.
But the Queen has a far more worrying situation on her hands when London is hit by a cholera epidemic.
Only the meek Dr Snow (Sam Swainsbury) has identified that the bacteria is spread in water, so Queen Victoria (Jenna Coleman, pictured above with Sam) invites him for a private meeting to try to halt the crisis.
But when the disease targets someone close to Her Majesty, will they survive?
As nice-but-dim Jason, the son of long-suffering Cathy in Lesley Manville's award-winning BBC2 comedy Mum, Sam is skilled at portraying supreme dopiness.
So his guest role as the astute real-life doctor in this week's Victoria couldn't be more different.
Here, in an exclusive chat with TV Times, Sam reveals all about his role…
Tell us more about John Snow…
He was a doctor from York who studied cholera, which is a horrible, highly contagious disease.
It was believed then that it was airborne but we see John visit the houses in Soho where people have died and he discovers it's coming from the water in a single pump.
People don't take him seriously at first, but he becomes paramount in stopping the spread and helps save thousands of lives.
What relationship does he have with Queen Victoria?
They're two kindred spirits who come together and see the bigger picture.
There's a lovely scene that shows Victoria's compassion.
Apparently John was 'awkward of speech' and we've interpreted that as him having a stammer, so he's nervous but she calms him down and gets him to give his theory.
In real life, he later helped deliver her last two children.
I'm hoping they put that in series four!
Did you know anything about John Snow before this?
No, but there is a pub in Soho called the John Snow, which is next to the pump where he discovered cholera.
I've been in there several times.
Now I feel responsibility to do this guy justice because he's one of the nation's unsung heroes.
TV Times rating: ****
Get the latest updates, reviews and unmissable series to watch and more!
Thank you for signing up to Whattowatch. You will receive a verification email shortly.
There was a problem. Please refresh the page and try again.