Will Chas tell Cain about Aaron's abuse?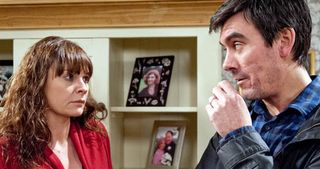 *Second episode*
Fresh from a hideous confrontation with Gordon, Chas needs to see Aaron. She's in a state and floors her son when she reveals Gordon admitted to abusing him. Later, Cain's concerned about his sister, who's in bits. Though she promised her son she'd keep the horrific secret to herself, Chas unburdens the load on to Cain.
Keeping his emotions in check, inside, Cain is in turmoil. He listens as his sister reveals how she hates herself for having let Gordon back in their lives. Chas admits she has no idea how to help Aaron – but it's clear Cain has something in mind for Gordon. Later, he draws up outside Gordon's house, but notices he has friends over. It'll wait…
At the B&B it looks like Pollard has run into trouble with trading standards who are checking out his latest delivery of wine, which he got from Duncan. Is he about to lose his licence?
Nicola notices Jimmy being really weird when Rakesh asks to look over the business accounts on Charity's behalf. She's stunned when her husband reveals he hasn't kept up with them since Charity went to prison ages ago!
Moira learns Pete's only been given a six-month sentence for causing actual bodily harm, much to her relief.
Get the latest updates, reviews and unmissable series to watch and more!
Thank you for signing up to Whattowatch. You will receive a verification email shortly.
There was a problem. Please refresh the page and try again.