Will Kim lead baby JJ into danger?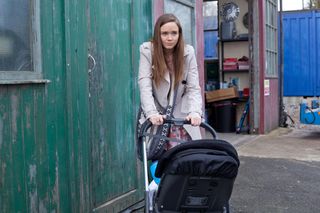 Wanting to spend time with baby JJ, Kim sneaks up to the garage where Joe and Freddie are busy working and hears JJ crying. As she starts to wheel the pram away, Joe stops her, but when a plumbing emergency occurs at the Roscoes', Joe forced to leave JJ with Kim so they can sort it. When Joe arrives at home, however, he's handcuffed to the bannister with Mercedes – Ellie and Freddie have set them up... unaware they may have put JJ in danger. Kim goes to The Bean with Esther but panics when JJ gets a rash. Lindsey's spying on them and tells Kim to bring JJ to her instead of going to the hospital.
Meanwhile, Grace has given Sienna her dress from Trevor, so Esther can make her a new one. Sienna learns Ben has a surprise for her, so she wants to do something special for him too. With Grace's help, Sienna gets him tickets for his favourite band but her treat from Ben isn't nearly as exciting – deed poll documents to change Nico's name. Feeling like the walls are closing in on her, Sienna goes to The Loft and tells Trevor she loves him.
Also, Lisa's refusing to leave Margaret's side but the Lovedays are ready to fight for their daughter. Zack and Sonia track her down and convince her to come back to the village. As Simone and Louis welcome their daughter home, a heartbroken Sonia watches on...
Get the latest updates, reviews and unmissable series to watch and more!
Thank you for signing up to Whattowatch. You will receive a verification email shortly.
There was a problem. Please refresh the page and try again.